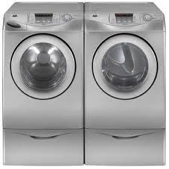 Laundry often seems like a never-ending task. Just when you think you've tackled it all, another soiled load suddenly appears! To make matters worse, washing machine efficiency can turn on a dime, leaving you with an appliance that won't drain or spin. If you're buried in piles of dirty clothing and your washer isn't up to par, resist the urge to panic and drop hundreds on a new machine. For a far more economical solution to your laundry room misery, get on the phone and call Anthony's Appliance Repair. With our professional washing machine repairs, you can recover the full capacity of your washer without having to pay for a whole new appliance. It's as easy as picking up the phone and calling our experienced team of washing machine repair specialists.
Believe it or not, washing machines are a lot more complicated than they look, with myriad motors and moving parts. When you factor in their sophisticated circuitry and water lines, it's clear why Anthony's Appliance Repair is the right team for the job. With three decades of experience in washing machine repairs, we're highly trained to troubleshoot your household washer, whether it's a conventional style top loader that's been around for years or a high-efficiency front loader with all the bells and whistles. Our extensive, four-point washing machine repair inspection includes:
Testing the spin cycle
Checking the agitation or tumble
Adjusting balance and leveling, if required
Instruction on accurate maintenance and usage
With Anthony's Appliance Repair, you can rest assured knowing that our professional washing machine repair technicians have the skills and wherewithal to address a wide variety of washer/dryer repair issues. We have more than 30 years of experience in the washer and dryer repair industry, and since opening our own appliance repair business in 2009, we've helped numerous Woodlands-area homeowners with such annoying washing machine repair problems as:
Failure to spin
No agitation
Water not filling
Inability to drain
Failure to start
Unusual noises
Water leaks
And more 
If your washer is experiencing any of these symptoms, contact Anthony's Appliance Repair right away to schedule prompt, efficient washing machine repair service. You can reach us over the phone or online, whichever is most convenient for you.
The washing machine repair specialists at Anthony's Appliance Repair are well versed in the specifications of most major brands and models, so whether you need Maytag washing machine repair or GE washing machine repair, we've got the knowledge and tools necessary to fulfill your highest expectations. Should the extent of your washing machine repair warrant an all-out replacement, we may be able to help with that as well. We stock an inventory of refurbished, used appliances to help you save on the high cost of appliance replacement.
To set up an appointment for washer/dryer repair that fits your schedule, give Anthony's Appliance Repair a call today or reach us by e-mail. Putting us in charge of your washing machine repair is the most efficient and economical choice you can make for your Woodlands-area household.
Anthony's Appliance Repair is open six days a week for all of your professional washing machine repairs needs. We offer both a 30-day warranty on labor and a 90-day warranty on genuine factory parts, and we're fully insured for your complete satisfaction.