Having a dishwasher at home is a terrific convenience. Instead of standing at the sink and scrubbing each item by hand, all you need to do is load up the machine and press a button. So what's a homeowner to do when this essential time-saver is suddenly out of commission? Why, pick up the phone and call Anthony's Appliance Repair, of course. If your dishwasher has been leaving the glasses cloudy or the floor soaking wet, our professional dishwasher repair can make it great again. Don't go back to piled-up plates and dishpan hands. Schedule your dishwasher repair today over the phone or online!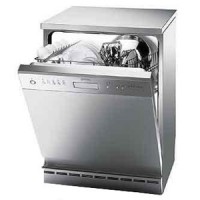 The truth is, in addition to saving you tremendous time and labor, following through with a residential dishwasher repair from Anthony's Appliance Repair can also help you trim your annual energy costs. That's right! Research has shown that running a dishwasher uses less energy and water to clean dishes than hand washing, so you're reducing utility bills as well as doing your part to make a lighter impact on the planet. Plus, dishwasher repairs allow you to sanitize your pans and serving utensils better than cleaning by hand, since dishwashers use water heated to a higher temperature.
No matter what type of adjustment or replacement part your unit may require, dishwasher repair from Anthony's Appliance Repair is almost always more cost effective than buying a whole new appliance. So don't rush out to purchase a brand-new dishwasher the minute you spot signs of trouble. That's the time to count on our experienced technicians to give you a thorough, four-point inspection, including:
Checking door seals
Monitoring water temperatures
Examining for accurate installation
Instruction on proper maintenance and usage
Even if your dishwasher is still plugging away, if it's operating at a diminished capacity, you could be risking permanent damage by attempting amateur dishwasher repairs or ignoring the problem all together. So save yourself the aggravation. For dependable dishwasher repair of Maytag, Whirlpool, and many other leading brands, turn to the trained technicians at Anthony's Appliance Repair. Our skilled dishwasher repairs are designed to address the full range of common homeowner complaints, including:
Unpleasant smells
Ineffective draining or water flow
Inability to start
Frequent leaking
Stuck-on food
Filmy glassware
And more 
When your dishwasher is displaying these or any other unusual symptoms, don't wait to seek a professional. Whether you need minor dishwasher rack repair or complex adjustments for your high-tech, late model dishwasher, Anthony's Appliance Repair is the answer. We approach each dishwasher repair with step-by-step precision to ensure the source of the malfunction is identified and properly corrected.
When you're in need of punctual, first-rate dishwasher repair at an affordable rate, look no further than Anthony's Appliance Repair. We offer fast, convenient scheduling by phone or e-mail, and we're insured for your complete peace of mind. Your home dishwasher repair also includes our 30-day warranty on labor and 90-day warranty on parts. Give us a call now to get started!