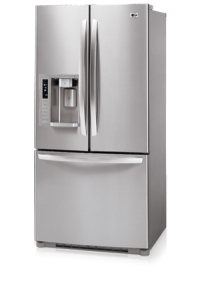 A well-made refrigerator probably won't need to be serviced more than a few times during its life. When incidents do occur, however, you need to act fast with effective and responsive refrigerator repair from Anthony's Appliance Repair. If your household refrigerator isn't cooling properly or has stopped working altogether, you don't have a minute to lose, especially if you recently restocked the groceries! So don't risk the added expense of having to throw away all those perishables: Call our professional refrigerator repair team today for timely and expert service!
At Anthony's Appliance Repair, we understand the need for speed where refrigerator repairs are concerned. That's why we'll do our absolute best to get to your house in a hurry and diagnose the damage. As an EPA-certified refrigerator repair company, we're committed to providing you with reasonable rates, punctual service, and impeccable workmanship.
Once you've alerted us to your refrigerator repair problem, we'll send a skilled technician to your home to assess the situation and identify the most cost-effective solution. In addition, your full, four-point inspection for refrigerator repair includes:
Testing the door seals
Checking current temperature readings
Examining and cleaning the condenser coils
Instruction on proper maintenance and temperature adjustment
After 30+ years in the refrigeration repair business, we have the specialized know-how and insight to troubleshoot the cause of your refrigerator's failure and get it fixed quickly. Here at Anthony's Appliance Repair, we know that many families are on a tight budget these days, so we strive to keep our prices competitive and our recommendations honest. Letting us attend to your refrigeration repair work will not only help you save over other, more expensive appliance repair companies, but with our expert refrigerators repair, you can also avoid the cost of having to buy a brand-new appliance. We even sell refurbished refrigerators to help you save with used appliances if your current fridge is too old or damaged for repairs to be cost-effective.
In the majority of cases, Anthony's Appliance Repair can complete your refrigerator repair in a single visit. While we specialize in Maytag and Whirlpool products, we also service many of today's other leading refrigerator brands, and we provide emergency services for those times when a serious loss of food is imminent. Give us a call now for solutions to all your residential refrigerator repair concerns, including:
Leaking
Too much cooling
Insufficient cooling
Excessive noise
Icy frost buildup
And more
Anthony's Appliance Repair is a family-owned refrigerator repair business located in the Woodlands vicinity, but we cover a wide surrounding area that includes Kingwood, Conroe, Aldine, and other nearby communities. If you're in need of a dependable, reasonably priced refrigerator appliance repair service that's always ready to help, e-mail or call us today for fast, economical service. As a valued customer, your complete satisfaction is extremely important to us. We back our services with a 30-day warranty on labor and a 90-day warranty on parts, and we use only genuine factory parts for all of our refrigerator repairs. And don't forget: we also service built-in refrigerators for your convenience.
To get your comprehensive, four-point inspection and accurate refrigerator repair, contact Anthony's Appliance Repair now by phone or e-mail. We look forward to working with you!