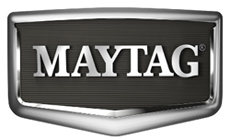 When your Maytag clothes dryer is acting up, which would you rather rely on: a company with no extensive knowledge of Maytag's residential products or a team of skilled technicians who have been specializing in Maytag appliance repair for decades? Well, our guess is you would choose the specialists at Anthony's Appliance Repair. With our 30+ years of hands-on experience in Maytag dryer repair, we have the detailed know-how to handle all of your maintenance issues for this popular brand, from excessive heat and noise to tumbling and starting troubles. To make your appointment for reliable Maytag dryer repair, contact us today by phone or e-mail!
As one of the industry's leading manufacturers, Maytag has built its reputation on dependability. Yet when you do experience a drop in your dryer's performance, it's great to know Anthony's Appliance Repair is ready to tackle your Maytag dryer repair. By leaving your dryer repair service to our dedicated pros, you can be sure you're doing what's best for your gas or electric unit. We're well versed in the entire range of Maytag dryer repairs, including:
Worn door gaskets
Defective thermostats
Inability to turn on
Improper heating
Cycling issues
Loud noises
And more! 
Whether your Maytag model is fairly old or relatively new, there's only one thing to do: Get on the phone and call Anthony's Appliance Repair for professional dryer repairs. Not only are we family-owned and locally run right here in The Woodlands, but our dryer repair assistance is fully qualified to handle the precise specifications of your Maytag repair. We work hard to keep up with the latest design innovations from Maytag, and we even waive our $65 service fee with every completed dryer repair.
And let's not forget, when you hire Anthony's Appliance Repair for your Maytag dryer repair, your service call includes a top-to-bottom four-point inspection for your added assurance. That's right! Instead of just attending to your immediate dryer repair and rushing off to our next appointment, we'll carry out a full systems safety check on your Maytag dryer, addressing such vital elements as:
Adequate venting and airflow
Proper balancing and leveling
Filter cleanliness and lint buildup
Regular dryer care and upkeep
So why trust your laundry equipment to anyone else? For dryer repair service matched to your Maytag machine, turn to Anthony's Appliance Repair today. Call or e-mail us right away to arrange for your Maytag repair, and be sure to ask about our great warranties on labor and parts. We're your go-to team for Maytag appliance repair in The Woodlands and beyond!