Once you've had a clothes dryer of your own, it can be tough to do without the convenience. So don't resign yourself to spending hours sitting at the local laundromat or hanging stuff up to dry one item at a time. If your home dryer is broken or out of whack, get back to the pleasure of quickly fresh and fluffy clothing with expert and efficient dryer repair from A B Appliance Services. With more than 30 years in the industry, we have exactly what it takes to bring you speedy, cost-effective clothes dryer repair. Just give us a call today or reach us by e-mail to schedule a four-point inspection and dryer repair for your Woodlands-area home.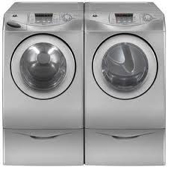 As a family-owned and -operated washer/dryer repair business, A B Appliance Services is firmly committed to bringing you workmanship and customer care that is second to none. When you contact us for dryer repairs, you can expect to be treated with integrity and respect every step of the way. Our knowledgeable technicians will take the time to fully diagnose your dryer repair and explain their findings in detail. In fact, our trademark, four-point inspections for dryer repair include:
Checking the exhaust vent for proper airflow
Balancing and leveling the unit if necessary
Examining and cleaning the filter
Instruction on proper appliance care and upkeep
Whether your malfunction is the result of a decayed door gasket or a broken thermostat, A B Appliance Services will have your residential dryer repair under complete control. Over the course of our 30+ years in the appliance repair industry, we've helped many a local homeowner deal with their dryer's deficiencies, including:
Failure to start
Inadequate heating
Overheating
Excessive noise
Tumbling problems
Cycling issues
And others
At A B Appliance Services, we're fully equipped to perform both gas dryer repair and electric dryer repair on many of today's most popular makes and models. Whether you need Maytag dryer repair or GE dryer repair, our technicians will get the job done with skill and precision. We're also adept at dryer repairs for every generation of design, from standard front-loading machines to high-efficiency steam models.
So don't go without the convenience of your family dryer for long. If you have a lot of laundry to keep up with, put away the dryer repair manual and call A B Appliance Services ASAP. For more information about our comprehensive washer and dryer repair service, get in touch with us now by phone or e-mail.
Remember… like all of our professional appliance repair services, washer/dryer repair can save you hundreds over the cost of buying new. Give us a call today and compare for yourself. With our great warranties on both labor and genuine factory parts, you'll be glad you did!
A B Appliance Services is available for dryer repair from 7:00 in the morning until 7:00 in the evening every day but Sunday. We also offer emergency services to assist with your dryer repairs.