Most major appliances are expected to last anywhere from 10 to 15 years, give or take a few. That's a tremendous amount of dishes washed, clothes cleaned, and groceries kept cold and fresh. When breakdowns do occur, however, appliance repair from A B Appliance Services is a fast and effective way to extend the life of your existing equipment and maximize the return on your initial investment. But that's not the only way we can help you avoid the hefty expense of having to go out and buy a brand-new refrigerator or washer. If you're in the market for a replacement appliance, we can also help you save a bundle through the purchase of our refurbished, used appliances.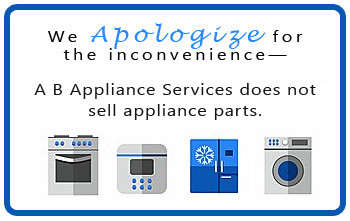 Don't let the phrase "used appliances" give you pause. With A B Appliance Services, you won't find any dusty, beat-up machines that look as iffy as they work. Our used appliances, for lack of a better term, are thoroughly refurbished using the same extensive, four-point inspections we apply for your household repairs. As appliance repair specialists, we have access to second-hand machines with plenty of life left in them. By putting these used appliances through comprehensive inspections and ensuring they are fit for sale, we can help you circumvent your most serious and costly residential appliance repairs and pass the significant savings on to you.
If you're like many homeowners these days, your budget is already tight enough without paying full price on brand-new units at appliance stores. That's why A B Appliance Services offers discount appliances you can afford and trust. We carry a number of brand-name, quality, used appliances for your kitchen and laundry room, including:
Refrigerators
Dishwashers
Stoves
Ovens
Washers
Dryers
And more
At A B Appliance Services, we're dedicated to providing you with exceptional workmanship and customer satisfaction at prices that won't break the bank. Our totally refurbished, discount appliances are no exception. To learn more about our inventory of gently used appliances, simply get on the phone and call. We'd be happy to tell you about our current stock, educate you about our acquisition and restoration process, and give you a convenient price quote right over the phone. Our gently used appliances are a great way to receive years of excellent service from a residential appliance and save money at the same time. 
If your current refrigerator or oven is irreparable, send us an e-mail or talk to one of our experienced appliance repair specialists today and consider all of your options. Our goal is simple: to equip your Woodlands-area home with nothing but fully functioning machines at fair prices. We offer a wide variety of brand-name models to choose from, so you can be sure to find a used appliance that fits your needs to a tee. Every last one of our discount appliances is clean and safe and ready to carry the load in your bustling household. We pride ourselves on honesty at all times and would never sign off on a substandard product.
So skip the fancy appliance stores with their high markups. Contact A B Appliance Services today for quality used appliances at prices that will make you smile. We're here every day but Sunday for discount appliance sales.